Dr. Christopher Fomunyoh: The list of democratic deficiencies and setbacks in today's Cameroon is long. Arresting Anglophones in the NOSO, trucking them to Yaoundé will only sow seeds of long-lasting animosity.
From the start of the Anglophone Crisis that has now completely turned nasty, Dr. Christopher Fomunyoh warned repeatedly that a military approach to solve the problem was wrong. The government did not listen. Thousands have since been killed, jailed or disappeared. Over a million displaced, the economy of the affected regions ruined; hundreds of villages razed. Children have been out of school for four years. Now kidnappings, abuse of women and brutal killings are mounting. Plainly, these are consequences of using arms to solve a problem that could have been resolved at the dialogue table. In this exclusive interview with The Voice, Dr. Christopher Fomunyoh, Director of the US based National Democratic Institute, NDI, prescribes the way forward to ending the conflict. He also addresses other key issues affecting the political, social and diplomatic life of Cameroon, the post Biya era and succession, sufferings, international community's reactions etc. Randy Joe Sa'ah put the questions
Dr Christopher Fomunyoh, the main news dominating conversations this past week has been the meeting of the Higher Council of Magistracy presided over by President Paul Biya, and the appointment of Magistrates that followed. What are your impressions of these events?
Dr Christopher Fomunyoh: It was heartening to see that the Council finally met, after many years of inactivity, so young magistrates could be integrated into the public service and with their senior colleagues deployed to attend to citizens in Courts across the country. A number of things stood out for me : firstly, the renewal of almost the entire bench of the Supreme Court was a reminder that for several years, the highest court in the land was being manned by judges who had long passed retirement age; and secondly, the realization that all these magistrates were appointed by one individual using his discretionary powers jolted any notions of separation of powers and the judiciary as a co-equal and independent branch of government in today's Cameroon, as it should be in every democracy. I'm pleased to see all the young Anglophone judges, magistrates and State Counsels appointed to Courts and Legal Departments in the 13 Divisions of the North West and South West regions. It would appear that this flows directly from the protests of Anglophone lawyers and teachers in 2016; and that therefore begs the question of why it had to take a crisis and now full-blown armed conflict to get such straightforward appointments.
We have also witnessed in the past week, horrible atrocities in the conflict areas, including the gruesome murder of a young woman in Muyuka, South West region. How would you address such atrocities?
I lack words to describe the terrifying horror I watched in that video. I cannot believe that a breathing human being would commit such a horrific act on another human being, moreover an unarmed civilian and a woman at that. I hear the victim was a mother of four young kids. Our hearts bleed for her and her family, and the now traumatized community of Muyuka and beyond, to whom I express my deepest condolences.
I have also seen a second video circulating these past days of people in uniform dragging a civilian on a rough patch of road before firing multiple shots into his body. Shocking! You may remember in 2017/18, I warned that opting for a military solution to resolve political grievances would destroy our collective humanity. Today, horror, extreme cruelty and sadistic practices have descended upon our people and our land, and we desperately need an immediate ceasefire and an end to this fratricidal conflict. No one can see these images of inhumanity and savagery in the North West and South West regions, and still claim that calm is returned or that the military force is capable of resolving the crisis. A high level United Nations fact facing mission is needed right now so we can get to the bottom of the killings and atrocities.
Talking about the crisis and conflict, thousands of lives have been lost in the North West and South West Regions or Anglophone Cameroon, and no week goes by without dozens of people killed and atrocities committed. Why is there no urgency in resolving this conflict?
It is shocking and truly inexplicable that the carnage in the North West and South West regions these past four years continues unabated, as if the world or even state authorities are oblivious of the lasting negative consequences of this conflict. You have heard or read terrifying news about the killing of the young 35 years old mayor of Mamfe, the 55 years old pastor and humanitarian worker in Guzang-Batibo, and just a few days ago, the gruesome execution of a young lady in Muyuka, just to name a few. Horrible and totally unacceptable acts are taking place in Anglophone Cameroon! The Norwegian Refugee Council has described the ongoing conflict as 'the most underreported crisis in the world.' Lives are being lost, property is being destroyed, and the peace, culture and dynamism of a people are being crushed, all before our very eyes. The time is long overdue for every person of good will, in their individual or institutional capacity, to redouble efforts to bring this senseless conflict to an end. I hope that the loud cries over the killings, kidnappings, destruction of property and other atrocities will suscitate a greater sense of urgency across this country and worldwide that this senseless war must be brought to an end, and the root causes of the crisis — now known to every honest and right thinking person — are addressed head on.
Question: Fundamentally, at a minimum, anglophones want a say in the management of their own affairs. Do you think the government recognizes this as it grapples with the crisis?
That is the crux of the matter.  The people of today's North West and South West regions were accustomed to managing their affairs at the sub-national level in the days of West Cameroon when we were a federation, and before that as Southern Cameroons prior to reunification in 1961.  The vast majority of them cannot understand why today, they have less than previous generations had in terms of rights and freedoms and decision-making or management of their affairs.  Most unfortunately, the very centralized Cameroon state, molded on a very Jacobin over-centralized system, seems unable or unwilling to listen and discern what the people desire.  The state seems to be acting like a blindfolded, angry parent recklessly waving a sharp knife as family members express discontent and dissatisfaction because their legitimate rights and freedoms are being trampled upon.
Many people have gotten radicalized by the anglophone crisis. But you don't seem to have been soaked into either the politics of Ambazonia or the hardline response of the government. How involved have you been in the management of the crisis?
By the time you identify Anglophones that have lost loved ones, family members, friends, classmates; those whose children haven't gone to school these past years and / or whose villages have been burned or raided; those subjected to harassment and kidnappings for ransom by armed groups; those who can no longer find economic opportunity in their regions of origin; those caring for prisoners in Kondengui or internally displaced persons or refugees in foreign lands, or who have become hostages themselves outside of their home lands and cannot dare return or even visit; or the millions that by United Nations projections are now exposed to famine; you cannot help but conclude that virtually all six or seven million Anglophones have been negatively impacted by the ongoing conflict.  The level of frustration, anger, despair is deep; just as the trauma and sense of hopelessness that is fast becoming pervasive.  Yet, we must remain strong and resilient as, for many people, some of us remain the tiny threads on which they still hang their hopes. My position has been consistent over the decades and especially after the crisis broke in 2016.  I have always stated unequivocally that Anglophone grievances are real and legitimate and must be properly addressed in order to find a peaceful resolution of the conflict.  It's the same consistent message that I continue to deliver to various national and international actors.
You did not attend the Grand National Dialogue to resolve the anglophone crisis last year. Was it deliberate?
The Yaounde-based National Dialogue came and went; but the crisis remains, and the killings and atrocities haven't ended.  If anything, they have become more random, more gruesome and totally inexplicable, especially among the civilian population.  Remember since October 2019, we have had killings in Ngarbuh, Muyuka, Mamfe, Buea, Bangem, Lebialem, Babanki, Bamenda, etc.  Populations are terrified and in some cases going through hell, despite the Yaounde Grand Dialogue of last October.  I cannot remember a crisis or conflict of this magnitude with deep rooted historical grievances that was resolved in one, five days sitting, and more so without input in the agenda by all parties involved.  We desperately need to focus on concrete and urgent steps that must be taken to tackle the conflict and resolve it once and for all, though mediated negotiations and not a simple one-sided dialogue for show.  We need to speed up the process too, because time is not on our side.  People are dying, the situation is getting worse at multiple levels and will deteriorate further,  if allowed to linger.
Nevertheless, the conference came out with some recommendations.
Unfortunately, the strength of recommendations is not that they are written on paper; it is that they are operationalized and that  citizens see them as an improvement over what they had in the past. That has not been the case.  The people of the North West and South West regions have a frame of reference in terms of how they lived in the past, and so measure government actions or services not in terms of what new dictates come from Yaounde, but in how such actions or services restore to them that which they believe they have been deprived of all these decades.  The government and its officials have to, figuratively speaking, wear the shoes of Northwesterners and Southwesterners to know how deeply they feel the wound of this conflict.  Moreover, since October 2019, the violence has worsened in the nature of atrocities and indiscriminate targeting of victims in these two regions.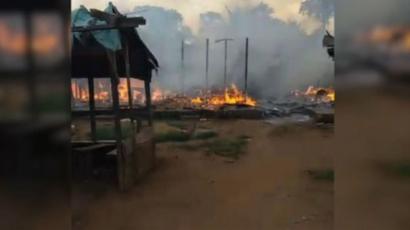 The government recently created a commission for the reconstruction in the North West and South West  regions. Is this a welcome move, especially without a formal ceasefire in the armed conflict?
No one can be against reconstruction, but the fear of many Anglophones is that the government seems to be putting the cart before the horse in promising reconstruction projects while the conflict is still ongoing.  Others doubt that a government with a poor track record in development projects in the two regions even in peacetime would all of a sudden begin and complete significant rebuilding while guns are still blazing and lots of areas are still insecure. Others want to be assured of the level of community involvement with local contractors and entrepreneurs as opposed to benefactors parachuted from the capital.  Still others highlight the fact that the greatest destruction in the North West and South West regions today is human life and the human spirit, and bringing an end to the conflict and killings would soften hearts and minds and be a natural launchpad for genuine reconstruction and reconstruction.  Today, some people talk of reconstruction in isolation without even asking or pleading for a ceasefire; others talk about reconstruction as if it is a wedge issue between the North West and South West regions — something that has crippled the Anglophone cause in past decades, but that the younger generation wants to eradicate.  I'm dumbfounded and very disappointed that anyone would want to poison through missteps, poor judgment, and unnecessary controversy, what could otherwise be much needed rebuilding of brick, body and soul in the North West and South West.
One key challenge facing Cameroon now is the question of succession to President Paul Biya with so many conspiracy theories coming to play. In your opinion, what should be taken into consideration in choosing a successor to president Paul Biya?  Do you think a constitutional revision is now an absolute necessity?
Honestly, after Paul Biya's 58 years — 20 years in high positions under the first president of Cameroon Ahmadou Ahidjo when he was assigned at various times to handle Anglophone related matters, plus his own 38 years as president — if he hasn't been able to address Anglophone grievances or peacefully resolve the crisis now a full blown conflict, I don't see how he is going to clean this slate before his mandate expires.  I have very serious doubts about his capacity to do so.
I'm aware of the speculation regarding manoeuvres by some individuals to position themselves, perhaps because they saw such manoeuvring work in 1982.  However, we're in the 21st century, so much has changed in this country since 1982, let alone in the past four years, and this country is so broken I cannot see some of those nitwits returning the country from the cliff towards which it is headed, without major, profond, structural and constitutional reforms.
The government appears to have started a process to talk with the Ambazonian leadership in Kondengui prison although the minister of communication later downplayed the move. How significant was the contact made with Sissiku Julius Ayuk?
In my opinion, the Minister of Communication did not categorically deny that discussions took place; rather, he stated that the characterization of those discussions on social media did not match what may have transpired.  As I said last March in multiple media outlets in Douala and Yaounde, Sisiku Ayuk Tabe and his comrades currently in Kondengui prison constitute significant leadership within the Anglophone community and will have a key role to play in contributing to a peaceful, negotiated end to the ongoing conflict.  Talking to them and laying the proper groundwork for formal talks is important; releasing them and other political prisoners linked to the Anglophone crisis is strongly desired and significant as a confidence building measure and also a matter of justice and fairness.  Arresting Anglophones in the North West and South West regions, trucking them to Yaoundé and keeping them in indefinite detention without trial to the point of having some die during that process – with one chained to his bed until his last breath – will only sow seeds of long lasting animosity, hatred and the next conflict for future generations.  Future generations will not forget these very dark years in the history of the country and the lives of our people.
What key measures should be taken to ensure a ceasefire and an agreement between the two warring parties?
As you may be aware, the United Nations Security Council recently adopted Resolution 2532 of July 1, 2020, reinforcing the UN Secretary General's appeal for a global COVID 19 ceasefire in all conflicts around the world.  That provides a window of opportunity to declare an immediate ceasefire, and simultaneously confirm a commitment to a negotiated solution to the crisis.  Such a public statement would raise the bar on all parties, including the armed groups and hence pave the way for cooler heads to prevail and find a way out of this fratricidal conflict.  A ceasefire, followed by the release of prisoners and a public commitment to a peaceful, negotiated settlement would be a good, solid, and commendable step right now.  It is also very important that President Paul Biya publicly appoint a focal point mandated to deal with all matters related to this conflict so cabinet ministers stop trying to undermine each other with contradictory actions and messages regarding the conflict, while the country agonizes and fellow citizens die daily.
I understand you intervened in the humanitarian crisis plaguing the affected anglophone communities during your last visit to the country. What exactly did you do?
Well, in 2017, after the crisis had started, and with schools closed, the Fomunyoh Foundation opened two Women Empowerment Centers in Bamenda and Kumba to provide opportunities for young girls to learn new skills and crafts that could help improve their wellbeing.  Unfortunately, as the conflict intensified, we had to close both centers in 2018 so as not to put the girls and young women in harm's way.  So now we're limited to small scale donations to internally displaced persons and various humanitarian initiatives through locally based civil society organizations or church networks.  The needs are enormous and overwhelming and, hopefully, the Foundation will be able to scale up once the conflict ends and populations begin grappling with post-conflict rebuilding and reconciliation.
What has been your observation of the response of the international community to the anglophone crisis? Has the UN for example failed Southern Cameroonians as many of them believe?
Although some members of the international community, notably the United States, the European Union, and Germany, to name these few, have made strong statements at various points regarding the conflict; overall, many Cameroonians are stunned that outside of humanitarian and food aid, no concrete and direct actions have been taken to bring the conflict to a peaceful resolution.  Everyone recognizes that the grievances of the peoples of the North West and South West regions or former Southern Cameroons are political and legitimate going back to what transpired in the 1960s and 1970s; everybody knows that thousands have been killed, millions are today at risk of famine as havoc and destruction are being meted on innocent lives and their property, and yet, miraculously, some think Cameroonians will resolve this themselves.  Despite coming up short thus far, we must continue to impress upon the international community at large, and friends of Cameroon, including the African Union and the UN Security Council to help us get out of this mess.  I'm very concerned that the more this conflict drags on, the worse the atrocities will get. 
Covid-19 has come to complicate the political crisis in Cameroon. Do you think it will also impact on democracy and elections in Africa?
Despite the resilience and democratic progress we have seen this summer in a country like Malawi, the global pandemic of Coronavirus COVID 19 has paralyzed many countries not just from the public health perspective but also with regards to shutting down avenues for advocacy or oversight and citizen participation in politics.  In some cases, we are seeing a weakening of nascent democratic institutions and the over concentration of power in the hands of the Executive branch or ruling parties as in Burundi that braved elections despite the pandemic.  Also we have to be on the lookout for countries such as Tanzania, Guinea Conakry, Côte d'Ivoire, Ghana, Burkina Faso and Niger that will hold national elections soon while the pandemic has not yet been eradicated.  These governance and public health crises tend to be aggravated in countries in conflict such as Cameroon, which  explains why the United  Nations Secretary General issued a global call in May, later adopted in United Nations Security Council Resolution 2532, calling for a COVID-19 ceasefire in all conflict spots around the world.
Coming back to Cameroon, many Cameroonians believe that genuine democracy will only thrive in Cameroon in a post Biya era. Is there some truth to this?
They have reason to believe that, and it's extremely difficult to look at how the current regime governs and not come to the same conclusion.   The list of democratic deficiencies and setbacks in today's Cameroon is long, and I do not see what will turn the tide with the current crop of characters.  You can't have democracy without committed democrats, and most of what we see today is lip service to peace and democracy, and lots of positioning by individuals whose sole motivation seems to be to prop up a system that has perpetuated itself in power and deprived millions of people of the basic fundamentals of freedoms, rights and security.
You were for a long time considered an excellent choice for president even though you never presented yourself as candidate in the elections. Do you see a role for yourself in politics in Cameroon in the future?
The future looks so dark, so bleak, and my only priority right now is to bring an end to this armed conflict and the senseless killings and horrible atrocities that have befallen our people and our land.  When I said before the 2018 presidential polls that holding elections without tackling the conflict would exacerbate the situation, some people did not believe me.  I even stated then that I would not walk over the blood of my people to go to polls, and one could be declared winner and not have a country to govern.  Two years later, some of those who argued with my position back then now say my statements were prophetic.  We must all make it a collective priority to bring an end to this conflict and massive suffering, without which improved governance and elections and even the protection of cultural identity will remain elusive and inconsequential.
From your vantage point of regional director for Africa at the Washington DC-based National Democratic Institute for International Affairs (NDI), how do you appreciate the designation of a Black-American woman Senator Kamala Harris as vice presidential running mate to Joe Biden in the upcoming US elections?
This has been a very trying summer for the United States of America with huge nationwide protests following the murder in broad daylight of George Floyd and a number of African-Americans by white policemen.  Those demonstrations brought to the fore issues of racism and lack of social justice and respect for diversity, equity and inclusion in significant segments of American society.  In fact, protests also took place in many countries across the world.  It was appalling and revolting.  It is therefore gratifying that Joe Biden picked as running mate a woman of color as that says to the American people and the world as a whole, 'I heard you.'  Senator Kamala Harris is also very qualified and capable.  Her presence on the ticket as the first woman of color to be nominated vice president sends a strong message to young people and especially young girls and young women that they can set their dreams high and never allow themselves to be pulled down  or  held back.  There's a lot of excitement about that choice and she could very well end up being the next Vice President of the United States.
Do you think a Biden / Harris ticket will do more for Africa, and Cameroon in particular, especially with regards to ending this ongoing conflict?
It's still too early to say, not knowing what their party foreign policy platform will say, and the global challenges they may face, should they win the November elections.  At the same time, one must acknowledge that many constituencies within the US Democratic party are interested in Africa and are likely to lean on the Biden / Harris administration to be more engaged, should they be victorious.  That said, one should also recognize that the Trump administration has paid quite some attention to the ongoing conflict in Cameroon.  You may remember that former US ambassador to Cameroon Peter Barlerin was pretty vocal about various incidents of gross human rights abuses and bad governance in Cameroon; and so has been the current Assistant Secretary of State for African Affairs, Ambassador Tibor Nagy.  You may also recall that President Donald Trump reduced US military assistance to Cameroon, and also took the country off the list of countries that could benefit from free access to US markets through the African Growth and Opportunity Act (AGOA), for the same reasons.  I hope to see more engagement by all our development partners to help Cameroon find peace, justice and sustainable development in the years to come, including the United States, whoever wins the US presidential race in November.
Source: Interviewer: Randy Joe Sa'ah
THE VOICE | Issue: 243
Monday, August 17, 2020